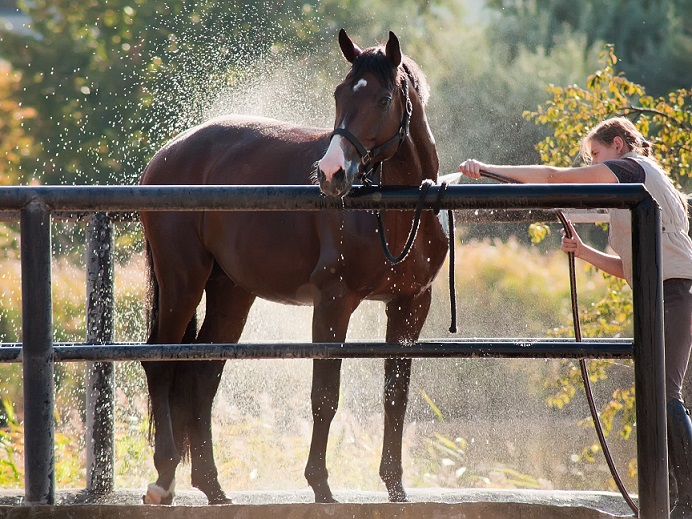 How to Write an Ad for Employees (While Not Scaring Them Away)
By Sue Weakley for MatchNRide
So, you are looking for barn help and you need to write an ad to send out to social media or a horse publication. You struggle to explain the demands of the job, whether its barn manager, working student, groom, or rider, and you want any possible employees to understand your high expectations. You figure if you outline the harsh realities of the job on the front end, you'll save yourself, and your new employee, some heartache. To paraphrase "Uptown Funk" by Mark Ronson, "Stop! Wait a minute."
Your goal is to gather an enthusiastic pool of applicants, right? Don't shrink the size of that pool by writing an advertisement for employment that's harsh or intimidating. Create an ad that's enticing to show your potential employees what's in it for them. How, you ask? Like Bruno Mars sings, let's "break it down."
- Don't forget your audience. Yes, some horse-crazy people will do ANYTHING to work near horses but you don't want them to think that your job will be indentured servitude. You are looking for quality candidates. Of course you expect hard work but the employee expects something in return. How about outlining what YOU have to offer, including your experience and expertise. An employer with an impressive resume has a much better chance of attracting quality workers than someone who just outlines what THEY want.
Your potential working students, grooms, riders and barn managers do these tough jobs because they love horses – even when it's not lucrative. YOUR job is to keep their passion alive because often that's truly all that's in it for them. That's what will keep your barn staffed, your horses happier and healthier, and your life easier.
- This is NOT the time to outline all the duties required for the job. That's for the job description and the phone interview. This IS the time to say if you provide meals, accommodations, a stipend, time off or lessons. You can say you expect hard work, but they have to know they get something in return. This is the marketing part of your hiring process, so be positive! Highlight your strengths and the advantages of working for you. Photos are a plus!
- If your barn is all quiet professionalism, your ad can reflect that. If you have a sense of fun in your workplace, you can include that. Your ad should reflect your no-nonsense style or your penchant for playing Motown music in your barn.
- Insist on resumes and references through email from interested job seekers. It proves their initiative and should give you a comprehensive view of their experience – with horses and in working.
- Now, create a job description to send out to all candidates who respond to your ad whom you feel could fit-in well. Send all job applicants in whom you have an interest the job description BEFORE the interview. NOW is your chance to scare them a bit, if that's your goal, or to just tell it like it is.
- As far as the job description, outline tasks and requirements of the job including hours and responsibilities. Be as detailed as possible. Then, the new employee will have a better idea of what is expected and, when it comes time for you to evaluate the performance, you will have a concrete list of expectations.
- When you come to the interview process, ask the prospective employees if they have any questions or concerns about the job description. Make sure that you are both clear on what is expected. If there are certain skills that are super important to you, be sure to highlight and ask about them during the interview. This will give you an excellent idea of what you can expect if you choose to hire one of the lucky job candidates.